THE BJWT VOLUNTEER EXPERIENCE
A deep understanding of the BJWT World.
Welcome to our state of the art, BJWT Volunteer Experience. An experience that allows you to provide volunteer services and help to our Animals/kids. Your contribution, both in terms of time and money, is vital to developing a better understanding of the Animal way, which in essence, is the real Human way.
After years of studying the perfect way to reach more Humans to help us #SaveOurPlanet, I have come up with a volunteering program that will benefit the Animals/kids that we've rescued. I've kept The Black Jaguar-White Tiger Sanctuary private for several reasons: Security, the well being of the kids and letting people know how we take care of Animals here. When I decided to open up Black Jaguar-White Tiger ("BJWT") 4 years ago, I did it not with the sole intention to rescue Animals, but to #SaveOurPlanet from Humans by rescuing Animals. It took me a year to decide whether to open BJWT or not, because I knew that if I decided to go through with the idea, it would be a lifetime commitment. I am not a quitter, so if I was to accept the challenge of rescuing as many Animals/kids as I could, it would have to be done and dealt with the purest Intent. I acquiesced, I made the commitment, and I created BJWT to fulfill my dream to rescue and protect the Animals/kids and to help humankind.
I divided the Sanctuary project in 4 Stages:
Stage 1: The nursery. The place where everything started for us. The place that has been a home to Cielo, Tierra, Dharma, Karma and The Fifth Element, Chiquitin. Plus 150 more Magical beings.
Stage 2: A bigger version of Stage 1; A Sacred place for all the kids that we've rescued, in which they could live happily for their rest of their lives if needed, but not the final outcome of my dream. 6 ranches conform Stage 2, but only two of them have been built, and my Intent is not to build more than these two, but to move to Stage 3.
Stage 3: Simply put, the best place on Planet Earth ever created. A place where Magic and Silence will commune in such a way that it will create the biggest amount of Blue Energy ever. I'm not going to give a lot of detail yet because that's not in my Nature, I just act and shock the world through my actions.
Stage 4: The Karma Project. The successful end to my Mission. The day will come when we have created so much awareness on the Planet that we can change how things are in Africa that will allow us to start repopulating it with Lions. This is a far away dream, but I don't dream mediocre dreams. My Heroes have taught me through out my life that one can change the world, and if they have changed it, why can't I? Why can't we? Specially, with the army of Magical beings that conform The Black Jaguar- White Tiger Foundation. The Universe is watching and I can't wait to walk along this path being written for us.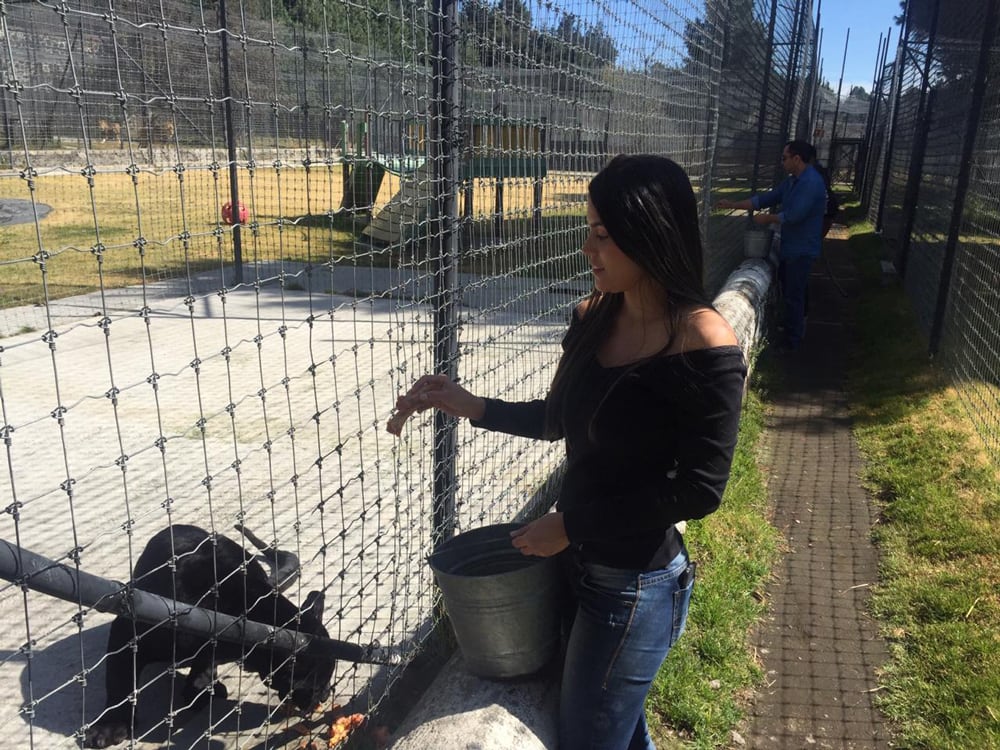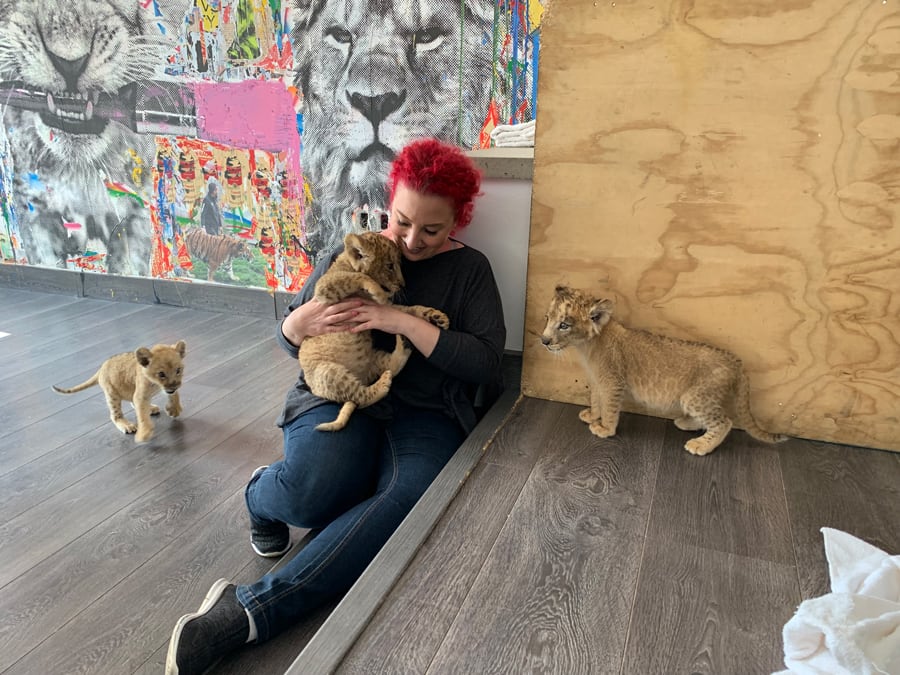 Now, the BJWT Volunteer Experience:
People can book now to come and volunteer to help us for either 1 week or 3 nights starting this October 21st of 2018. We are limiting the amount of people to no more than 16 per week.
The 1 week Experience costs $3,150 USD and the 3 night Experience, $1,500 USD. This cost will include Hotel (You will choose from 3 available hotels), transportation from the airport to the hotels and from the hotels to the Sanctuary (Various Stages), all your meals while you are rendering service at the Stages. Your plane tickets and visa costs as well as your meals and other expenses, which you may incur, when you are not actually volunteering at the Sanctuary, are not included.
*All payments are non-refundable. In case of cancellation you may reschedule your trip for an available option in the future. You will be responsible for all expenses (flights, cars, hotels, etc.) paid upon the moment of cancellation.
I know many people who would love to be part of the BJWT Volunteer Experience may not be able to afford this cost/donation, but do not worry, because for every 2 people that make the donation and join us at the BJWT Volunteer Experience, BJWT will invite 1 person to live exactly the same BJWT Volunteer Experience without any cost at all, except for their plane tickets and visa costs. It is BJWT's way of giving back and trying to allow many people to be part of the BJWT Volunteer Experience. All email addresses registered in our BJWT shop will automatically be part of the random draw to possibly be part of the BJWT Volunteer Experience free of charge. This means to me, since you have purchased something from our online shop/store in the past, that you have supported our kids, you have fed them, you have cured them, and you have built their habitats, so this is enough for BJWT to have you as a candidate to get invited.
Every Saturday, we'll update the email list from our online store to the draw that will take place every Sunday at 12PM Mexico City time. As an example, if 4 people pay the one week package, we will invite 2 people to join us for one week free of charge (Again, except for the plane and visa costs). The same principle applies for the 3 night package. You do not need to buy a raffle ticket as all the emails from our online store will be automatically added to each week's raffle. This way, people that have money will contribute to their fellow Humans' with less resources to live the best experience ever, if you like Big Felines 🙂
As BJWT is a US 501(c)3 non profit organization your donation should be tax deductible, (However, you must obtain tax advise from your tax consultant to be sure).
While on the Sacred grounds, you will work a maximum of 4 hours per day and the rest of the day you can just observe and absorb the energy from all of your favorite Animals/kids. Obviously, no interaction with the kids will take place at Stage 2 and Stage 2B, these Animals/kids after all, are super dangerous animals. Only in certain cases, when our volunteers are helping us take care of the kids at Stage 1, will any contact take place directly with the Animals/kids.
You will help the BJWT team prepare the bottles for the babies, you will help prepare the food for the kids, you will help us by supervising the habitats and by observing the behaviour of our rescues. We will use your best capabilities to make our Sanctuary even a happier and better place for Lovey, Enzo, Ali, Han and the rest of the kids. There's a lot of activities that you can take part of.
If I am ever honoured to be invited to your House, I would have to follow your rules, and since you are a guest at my house (Even if you're paying), you will have to follow BJWT Volunteer Experience rules. A basic agreement. Unfortunately, if you choose not to follow all the rules of the BJWT Volunteer Experience you will be asked to immediately leave the BJWT Volunteer Experience without a refund.. Now, the rules:
-You must be 18 years or older, or if less then 18 years, be accompanied by a parent or guardian. No kids under 14 years of age.
– You will obey all rules and commands at all times. Even if they are not written.
– Watches, jewelry and large hats are not to be worn at any time. Not even hidden under your clothes.
– No colored nail polish. The kids want to bite them off.
– Cellphones will only be used after your work shift is over. I want you to absorb as much Energy possible from our Sacred grounds.
– Cameras, outside the one in your cell phone, are not allowed.
– Water and food will only be consumed at the designated area. You are not tourists here, you are disciples of Existence, and the word disciple and discipline share the same root. You'll have to find that connection through your actions.
– You will have to go through a 20 minute introductory talk.
– No alcohol or drugs at any time during your visit. I can't have hungover people with my kids.
– No fighting of course
– No hugging Papa Bear 🙂
– YOU CAN NOT TOUCH THE ANIMALS THROUGH THE FENCE.
– The rules are subject to change at anytime without notice.
Now please fill out our detailed the form. Sign the waiver of Risk, and proceed to book the most Magical week of your life. So far…
*All payments are non-refundable. In case of cancellation you may reschedule your trip for an available option in the future. You will be responsible for all expenses (flights, cars, hotels, etc.) paid upon the moment of cancellation.
Subscribe to receive our latest news and more!